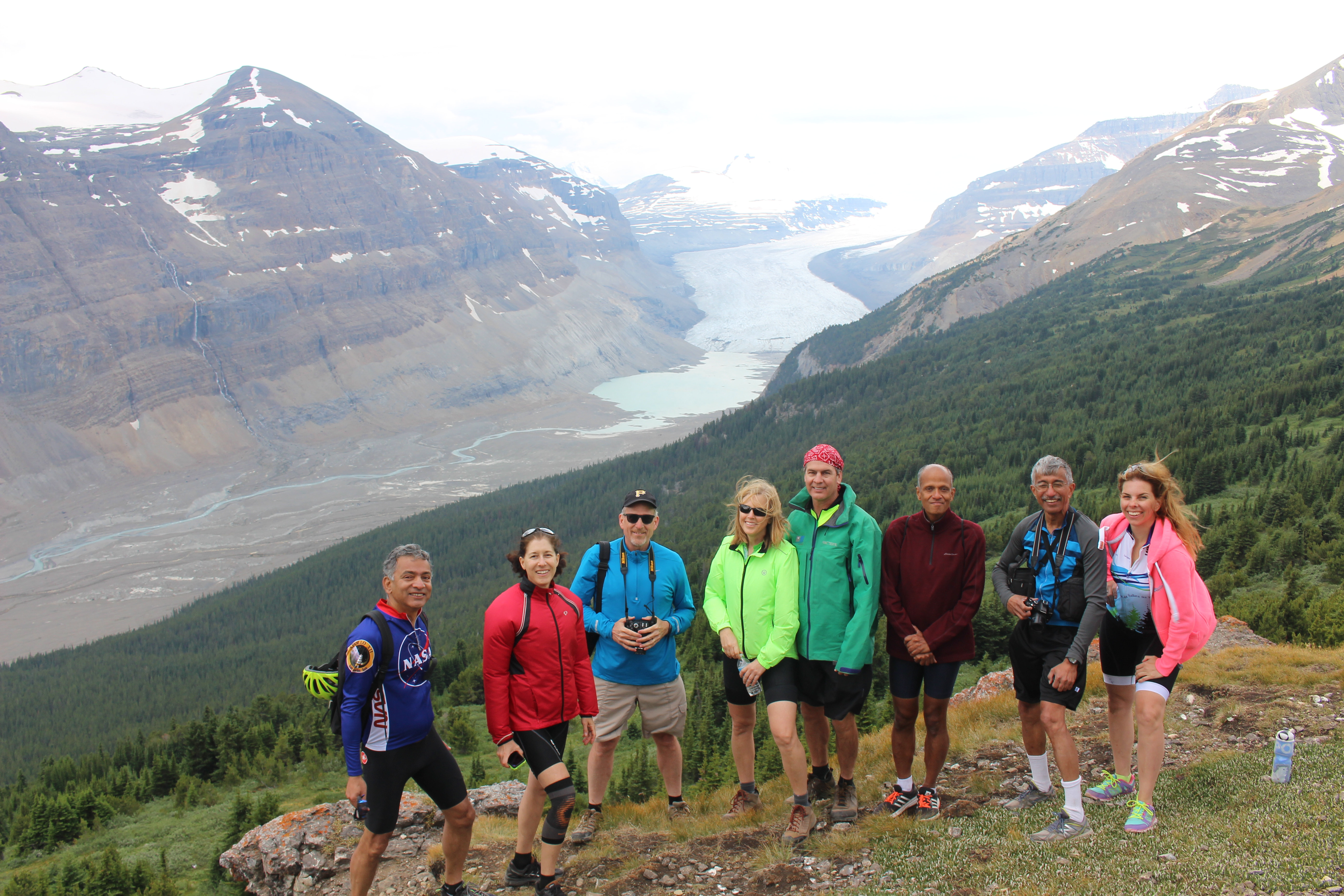 6 Day Jasper to Banff Family Tour
Want to spend a bit more time cycling between Jasper and Banff and include a bit more sightseeing and attractions along the way?
Do the distances on the 4 day tour look a bit much for you and your family / friends ?
Got a group of 6 and looking for something a bit different
This could be the tour for you.
Please note this tour is being offered as a custom tour for a group of 6 – 11 people. Please contact us for more info and accurate pricing.
Discover the Rockies by Bike
6 Days (5 Nights) | From: CAD $2500 per person + 5% gst (twin share)

Cycling Jasper to Banff / Canmore through two National Parks over Six days is the ultimate family / relaxed cycling tour in Western Canada. An incredible setting in which to challenge yourself physically and mentally, yet find the ability to let go and immerse yourself in the rejuvenation of the Rockies.
This tour takes full advantage of all the accomodation options on the Icefields parkway as we stay at every unique hotel along the route. With an average of 50km's riding per day we'll have lots of time for additional activities, sightseeing and relaxing in the afternoons. Riding this route over 6 days opens this tour up to families, new cyclists, young, and old and allows a large range of cycling abilities to join in on this amazing experience of a lifetime.
The mountain scenery is truly breathtaking and the slower pace offered by the bicycle means there is ample time to appreciate it. You'll take in the views, snap lots of photos, have a few rest breaks – and we'll still arrive at our nightly destinations with time to spare.  Relax in the evenings with a hot bath or a beverage enjoyed in the blaze of a mountain sunset, or explore the nearby sights and views on foot. Staying in the unique and cozy hotels along the way will give you the extra comfort each night that you deserve. You've worked hard during the day, and we love giving you time to pamper yourself in the evening.
Total tour distance: 300 km 
Quick summary of tour:
Arrival Day: Fly into Edmonton or get yourself to Jasper by this evening.
Day 1: We'll drive you from Edmonton to Jasper and meet additional people already in Jasper.
Ride Jasper to Sunwapta Falls (55 km) in the afternoon.
Day 2: Ride Sunwapta Falls to Columbia Icefields (Athabasca Glacier) (50km)
Day 3: Ride Columbia Icefields to Saskatchewan River Crossing (50km)
Day 4: Ride Saskatchewan River Crossing to Bow Lake (40km)
Day 5: Ride Bow Lake to Lake Louise (40km)
Day 6: Ride Lake Louise to Banff, with possible extension to Canmore (60 – 85 km), shuttle to Banff / Canmore hotels if staying longer, or Calgary Airport.
Download the full detailed itinerary by clicking the button above to the right.